---
03.16.2021
Volta Features/Culture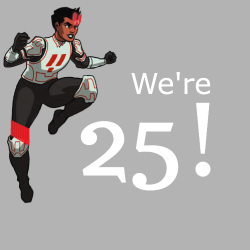 In early March of last year, the Volta team was enjoying an employee appreciation trip to Chicago. Little did we know that trip would be our last gathering together to celebrate business success and friendship in person! Through the uncertainty and hardships of 2020, Volta was fortunate to remain busy providing business solutions and services to our customers. We value every opportunity we've had this past year to advance our partnerships and support our customers' technology goals. This March marks another huge milestone for Volta. We are turning 25!
Volta Inc. has its roots in DMD Data Systems, founded in 1996 by Dave Sevigny. When IBM sold its printer operations Dave had the opportunity to start his own company as an IBM Business Partner. His core clients were Kentucky's K-12 school districts, to which he was assigned in his IBM days. In 2003, Dave hired Marshall Butler and together they started growing the business and expanding coverage into state and local government and higher education. In 2010, DMD Data Systems was named the Small Business of the Year by Commerce Lexington.
Midway through 2016, Marshall Butler became DMD Data Systems' President. About that same time, DMD's shareholders decided that it was time for the company to rebrand with a new identity which captures the spirit of the current technological age and its new leadership. In August of 2017, DMD was reimagined and relaunched as Volta, Inc. In September 2019, Dave Sevigny retired from Volta and Miles Cox was promoted to the into the role of COO. We have now grown to a business of more than 35 employees across several states.
"In an industry that completely reinvents itself every 7 or 8 years, making it 25 years says a lot about the relevancy of our business," said Marshall Butler. "For Volta, it has always been about having the smartest and most driven team along with the strategic partnerships that deliver value and innovation to our clients. When this company started, a guiding principle was to build a culture where our employees knew how valuable they were to the success of our business. We aimed to empower everyone in the company to develop their skills and learn new technologies so we could help our clients solve their most complex business problems. I'm proud to say Volta has continued to support that principle over the past 25 years."
We can not wait to celebrate with our customers and partners later in the year. We're crossing our fingers that we host an in-person event in the fall!