Dell EMC PowerProtect delivers fast, secure and efficient data protection.
---
04.1.2021
Enterprise Storage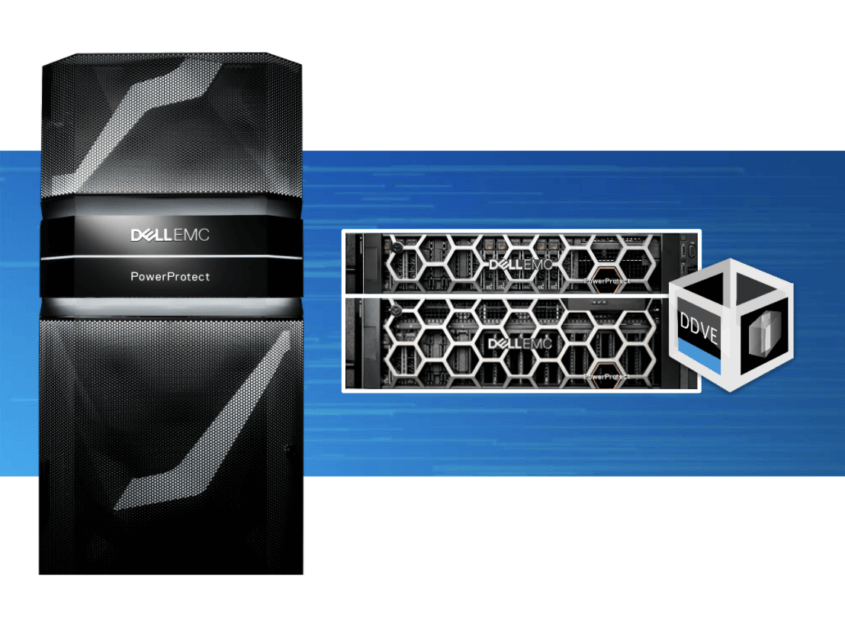 Overview of Dell EMC's premiere Data Protection solution, the PowerProtect Portfolio.
Dell EMC announced 3 new Data Domain series models: DD6900, DD9400 and DD9900. The 3 models scale from 24TB to 1.5PB at its largest. With the introduction of these 3 new appliances, Dell EMC has simplified its portfolio from 7 to 3 configurations, and has added enhanced management capabilities. DD series has faster performance that delivers up to 60,000 IOPS in IA/IR environments and has faster backups and restores of up to 38% and 45% respectively.
With the capacity to support up to 1.5PB in a single rack, DD series is an extremely efficient solution. It reduces rack space and floor space. It reduces power and cooling costs and also delivers up to 30% more logical capacity per terabyte of usable capacity. DD series is cloud-enabled as well, with the support of Cloud Tier and Cloud DR.
Let's further unpack how Dell EMC delivers a fast, secure and efficient data protection solution.
Performance is Key
To improve SLOs it provides up to 38% faster backups and up to 45% faster restores. You can achieve up to 60K IOPS for Instant Access and Restore and support up to 64 concurrent virtual machines. This is a 50% increase over previous models to better enable data reuse. The new appliances also support 25GbE and 100GbE to deliver faster networking compatibility.
Flash enabled VM Instant Access and Restore:
Access VMs directly from DD series using a protection copy.

Improved Random IO with the inclusion of flash SSD for metadata

Enhanced data cache results in higher random IO performance for Instant Access and Instant Restore
User Interface Modernization
PowerProtect DD Management Center
Manage capacity, monitor health and resource and generate reports

Supports AWS, Azure and Google Cloud Platform*

Streamlined DD OS upgrades with one to many scheduling option
DD System Manager
GUI for an individual chassis

Simple navigation and access to detailed views

Chassis view for better fault detection

Automatic minimum storage provisioning of File System
PowerProtect Cyber Recovery
DD series along with DP series can be used as the vault for the PowerProtect Cyber Recovery Solution. PowerProtect Cyber Recovery isolates critical data from ransomware and other sophisticated threats with immutability to preserve data integrity and confidentiality with layers of security and controls. Machine learning identifies suspicious activity and allows you to recover known good data and resume normal business operations with confidence.
Operational air gap with data isolation and immutability

CyberSense analytics and Machine Learning monitor data integrity

Accelerate cyber and ransomware attack data recovery
Data Protection in the Cloud
Data Domain Virtual Edition (DD VE) is a data protection software integrated into Data Domain, which maintains all the core differentiating features of Data Domain appliances. DD VE is fast and easy to download, deploy, and configure. DD VE can be up and running in minutes on any standard server, converged or hyper-converged. DD VE delivers increased transactional and operational efficiencies, reliability and lower TCO by utilizing object storage in addition to block storage.
Data Domain Virtual Edition (DD VE) can now run in AWS (256TB), Microsoft Azure, VMware Cloud, and Google Cloud Platform (256TB) in up to 96TB instances – an increase from 16TB in the previous versions. DD VE is also available in AWS GovCloud and Microsoft Azure Government.
Dell EMC Cloud Disaster Recovery
Disaster Recovery is essential for applications that cannot afford downtime. However, DR can be costly and often not configured for all mission critical applications. Data Protection suite offers cost effective disaster recovery to AWS, Azure and VMware Cloud on AWS. Cloud DR copies protected VM's from on-prem DD series, Data Domain, DP Series, and Integrated Data Protection Appliance to the public cloud and directly onto object storage. In addition, Cloud DR replicates VMs from production storage to AWS.
Orchestrated DR
End-to-end orchestration

DR plans

Rapid recovery
Efficient Architecture
Extend on-premises data protection

Minimal cloud cost & footprint

Eliminate DR data center costs
Simple operation
Use familiar on-prem UI

Direct in-cloud access

3 clicks failover, 2 clicks failback
Orchestrated DR testing, failover and automatic failback on-premises makes Cloud DR a cost-efficient solution leveraging the agility and flexibility of the cloud.
Let's talk about it! Set up a 30 minute call and we'll send you a Yeti Tumbler. Address IT complexity and data growth head on with the PowerProtect Portfolio from Dell EMC.