5 Security Tips For A Post-Pandemic World
---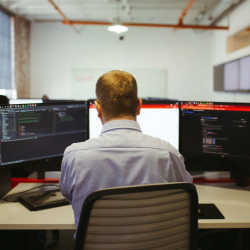 We know you're tired of hearing about everything you should be doing, or aren't doing to keep a vigilant, modern security posture implemented at your organization. The state of cybersecurity and the industry surrounding it is exhausting. You just want strong security controls that work. You want your board of directors to give you the budget and tools necessary to face the challenges of new and emerging threats. And you REALLY want your coworkers to assure you they won't click on that malicious link when they're working from their local coffee shop.
The pandemic sped up the changes already taking place for enterprises beefing up their cybersecurity strategies. Here's a brief checklist of those changes and how organizations are dealing with them.
The Rise of Zero-Trust Security Models
Zero-Trust has been a buzzword for a while. It is also known as perimeterless security or software-defined security. Under this structure, trust isn't implicit and access is granted through regulated policies. Enterprise data is now permanently dispersed amongst a mix of infrastructure types and accessed by users on unmanaged networks and devices. That trend started before the pandemic, and the whopping number of workers who want to remain remote means that trend will only keep growing. In the post-pandemic world, secure network access along with strong authentication is a critical necessity.
Evolving Regulatory Requirements
You can't scroll down a news website (I was going to say crack open a paper, but you know…) without seeing an update on a major cyber attack. As the risks evolve, so will the compliance and contractual requirements placed on organizations. CISOs are aware of this and are working on ways to ensure their security controls match the new standards. However, many of these regulatory changes will be enforced in phases over the next few years. It's important to work with security partners who have an eye on them.
Multi-Factor Authentication or Bust
I really didn't want to implement MFA on my gmail account… and I'm in the cybersecurity business! It's possible I shouldn't have admitted that. It's hard to get people on board with the kind of smart personal security measures necessary in a high risk era. The growing use of cloud-based systems to support distributed collaboration for the remote workforce have made strong authentication more important than ever. Data encryption often gets thrown in alongside authentication as a way to protect the perimeterless world, but encryption doesn't mean anything when attackers can so easily phish for credentials. Security training is important too, but MFA is the strongest technology adoption on the horizon.
The Visibility Issue
A large part of how we are redefining our security business at Volta follows the basic needs of visibility and continuous monitoring. New threat vectors were introduced with the advent of unmanaged devices on home networks. Improving visibility across these disparate networks is critical, which is why security technologies have rapidly evolved to allow for asset discovery, and event logging and management within cloud infrastructures.
IR Planning is Business Continuity
Incident Response plans are becoming a part of regulatory compliance for organizations. The whole "it's not if, it's when" argument is a pretty good one when you look at cyber attack statistics. There's a growing market for IT providers to consult on these plans especially if companies don't have the strongest security skillset in their IT departments. Generally there are 6 phases you go through to respond to an incident. While it's hard to prepare to defend against every type of attack, it's relatively straightforward to remediate different types of attacks. You know you must contain the hit, triage the damage, and implement changes. Check out our IR solutions page for further information on how Volta approaches security services.