Backup and Recovery with NetApp and Veeam
---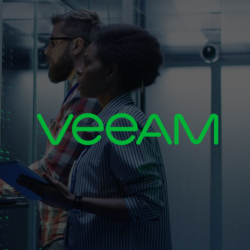 Today's data is growing rapidly into a hyper-sprawled landscape. Data must become more available than ever before.
NetApp and Veeam bring flexibility to their customers, allowing them to merge traditional models of data protection and backup and recovery. Intelligent Data Management is the new frontier, and as a leader in multi-cloud Availability, Veeam is well-positioned to guide organizations on the journey.
Veeam Availability Suite
Delivers Availability for the Always-On Enterprise. Leverages NetApp storage investments to help customers achieve recovery time and point objectives of less than 15 minutes for all data and applications on any cloud.
Veeam Backup & Replications
Delivers powerful, affordable and easy-to-use, near Continuous Data Protection for VMware and Hyper-V virtualized environments. Veeam's enterprise-level flexibility and reliability delivers the best RTOs and RPOs..
Veeam Software Backup from Storage Snapshots
Veeam integrated seamlessly into NetApp ONTAP OS. With Backup and Storage Snapshots technology administrators can initiate backups on NetApp storage systems more frequently and 20x faster than offerings from competitors.
Solution:
Instant VM recovery.
Built-in deduplication and compression. Archive to tape either offsite or bring into the cloud.
Veeam Explorers for Exchange and SharePoint restores and recovers individual items straight from backup.
Verify restore points automatically by starting VMs and running scripted tests.
Benefits for the business:
Fast flexible recovery in minutes.
Dramatically improves RTOs and RPOs.
Faster image-based backup for VMware and Hyper-V.
Optimized for global data centers and remote offices.