NetApp Leads GigaOm Radar for Cloud File Systems
---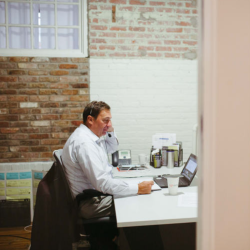 GigaOm, a leading technology research and analysis firm, has recognized NetApp as a leader and outperformer in cloud file storage. GigaOm conducted a thorough evaluation of the key players in the market and found that NetApp's cloud-based file storage solutions are among the best of the best. NetApp's offerings in this area are designed with enterprise-grade security and scalability in mind, delivering a reliable and efficient solution for storing and managing files in the cloud. With this recognition from GigaOm, it is clear that NetApp is well-positioned to help organizations of all sizes to succeed in the cloud. Let's dive into the NetApp solutions that support this leadership title; ONTAP and BlueXP.
ONTAP Establishes The Lead
For those seeking a reliable and efficient foundation for their storage needs, ONTAP is a major contender. It's basically the Swiss Army Knife of data management software – ONTAP is versatile, reliable, and has all the tools you need to get the job done. With advanced features like compression, compaction, deduplication, thin provisioning, and data tiering, ONTAP delivers the kind of efficiencies necessary to support storage-heavy, data-hungry workloads. This ensures that users can perform their tasks without interruption, and block-level, incremental-forever NetApp Snapshot, frees users from the stress of managing their data backups. Moreover, with the innovative NetApp FlexClone and FlexGroup features, users can unleash their creativity and easily manipulate their data in ways that were previously implausible with standard storage solutions.
ONTAP helps organizations:
…save valuable storage space and reduce costs, without compromising data availability or performance.

…accelerate critical workloads and scale capacity without disruption.

…streamline data management with one storage environment for both on-prem and cloud resources.

…guard against data loss and accelerate recovery with integrated data protection.

…protect company assets with built-in data security and automatic ransomware protection.
BlueXP Picks Up Speed
NetApp BlueXP is the game-changing innovation that provides the unified control part of NetApp's cloud-forward strategy. With its cutting-edge AI/ML-powered control plane, BlueXP presents a comprehensive cloud-based platform solution for discovering, deploying, and managing storage with unmatched ease. The BlueXP platform simplifies IT operations by enabling teams to automate the deployment, management, and optimization of their infrastructure through an intuitive web-based UI and unified APIs. This, in turn, enables businesses to gain deeper insights into their data, from where it is and how it's being used, to how it can be best utilized to maximize returns on investment.
The console also features role-based access control, which enables secure access and utility across organizations. With this capability, ITOps, CloudOps, DevOps, SecOps, and FinOps teams can leverage the power of the cloud, despite having different skill sets and personnel limitations. Additionally, NetApp BlueXP offers greater scalability, allowing organizations to easily adapt to changing business needs. This is especially important as companies experience rapid growth or need to pivot in response to market changes.
At Volta, an important element we always like to highlight within the solutions we promote is sustainability. By providing a consistent view of hybrid multicloud environments, BlueXP helps businesses make data-driven decisions, including moving critical data to meet business demands, while simultaneously reducing their overall carbon footprint. BlueXP's power reporting capabilities enable businesses to monitor their energy usage more closely, ultimately helping them optimize their energy consumption and reduce greenhouse gas emissions. By leveraging the power of NetApp ONTAP and BlueXP, organizations can contribute towards a more sustainable future, while also benefiting from greater efficiency, cost savings, and a more resilient IT infrastructure.
NetApp Takes First Place!
It's clear to see why GigaOm crowned NetApp an out-performer in cloud-file storage. ONTAP is the ultimate foundation to deliver optimal data storage. It facilitates efficient and creative data management, while BlueXP lends powerful support for organizations looking to improve the performance, manageability, and security of their IT infrastructure.