Secure access for your remote workforce.
---
Connect users to the data and applications they need while working outside the office.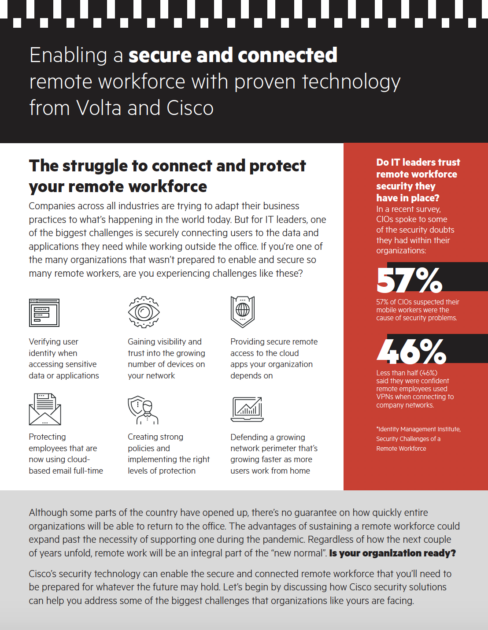 Securing access for your workforce during COVID-19 can be tricky. Organizations who are not used to having to secure so many remote workers, are coming up against a real dilemma. Every day, more people are needing to access your network from more devices and remote locations, creating more security vulnerabilities. Even after the pandemic eases up, the trend of working remotely will continue on. For many organizations, this is going to be the new normal long after it is safe to work in the office.
Truly effective security management means having full visibility across all those users and devices, while making sure your network is systematically protected against threats 24 hours a day, 7 days a week. Imagine having anytime / anywhere access, with a holistic view of user behavior, and best-in-class threat protection, all rolled up into one easy-to-manage solution. A great product for this is Cisco AnyConnect Secure Mobility Client.
Cisco AnyConnect provides seamless, transparent access on and off premises. It also integrates with other Cisco security solutions to give your network enterprise-wide risk protection including:
Policy Compliance Enforcement
Web Inspection
Malware Protection
Visibility into what users are doing
While other solutions require trade-offs between your requirements, Cisco AnyConnect delivers them all. Access, visibility, security and a hassle-free user experience from a best-in-class security solution provider. Thousands of companies worldwide have already made Cisco AnyConnect an integral part of their security strategy. Cisco AnyConnect Secure Mobility Client provides simpler, easier management for your IT teams. Find out why it's giving VPN a whole new meaning. And please – secure access for your workforce during COVID-19!